Sightseeing in Nishi-izu&Toi Onsen
Sightseeing in Nishi-izu&Toi Onsen
Izu Peninsula Geopark located in the eastern part of Shizuoka Prefecture. This is very different from other parts of Honshu.

Honshu, where the three plates are crowded together, is the only Honshu above the Philippine Sea plate, and was a submarine volcanic group several hundred kilometers south of the Izu Peninsula about 20 million years ago.Philippine Sea volcanic island formed on the Philippine Sea plate moved north with the plate.Eventually, it struck Honshu and became the shape of a peninsula as it is today.An event about 600,000 years ago.

About 30 minutes by car to Dogashima / Nishina Port Geosite.
About 50 minutes by car to Iwachi, Ishibe and Kumomi Geosite.

Toi Onsen as a base for your trip, you can explore the entire Nishi-izu area in two days and one night.
The time for each introduction is the approximate time required from Toi Fujiya Hotel.
Dogashima / Nishina Port Geosite is a Nishina Port Geosite where you can observe beautiful and diverse geological profiles of undersea volcanoes, which are rare in the world.

Dogashima the cliffs of the Dogashima coast, you can see the submarine debris flow associated with the eruption of a submarine volcano and the pumice and volcanic ash layers deposited on it.Beautiful folds white volcanic ash layer has created a distinctive landscape of DogashimaA skyscraper cave that is a Designated National Natural Treasure reminiscent Blue Cave"Blue Cave" can be enjoyed from the promenade or the pleasure boat.If you go to Sawada Park, you can also take an open-air bath where you can see the view of Dogashima while watching the rare strata of the undersea volcano.

Futo Beach strange rocks that rise on the Futo Beach of Futo Beach are the dikes (volcanic roots) of the former submarine volcano.

Underneath the volcano is a magma passage. The "volcanic roots" that emerged on the surface of the earth due to the rise of this path due to crustal deformation are Mt Eboshi and Senganmon in Senganmon, Kumomi, Matsuzaki Town.

Mt Eboshi rising steeply from the sea is a powerful force.At the top of the mountain is Kumomi Sengen Shrine, which enshrines Iwanaga Hime-no-mikoto Kumomi Sengen Shrine, and you can see Mt Fuji and the South Alps if the weather is nice.Senganmon is also called the gate of Sengen Shrine, is part of the root of a volcano, which formed a sea cave by the erosion of waves, forming the shape of a gate.

At Iwaji / Ishibe / Kumomi Geosite, you can also visit Muroiwa-do, the site of Izuishi's stone cave.The strata made of submarine volcanic ash is easy to process, and was useful as Izu soft stone.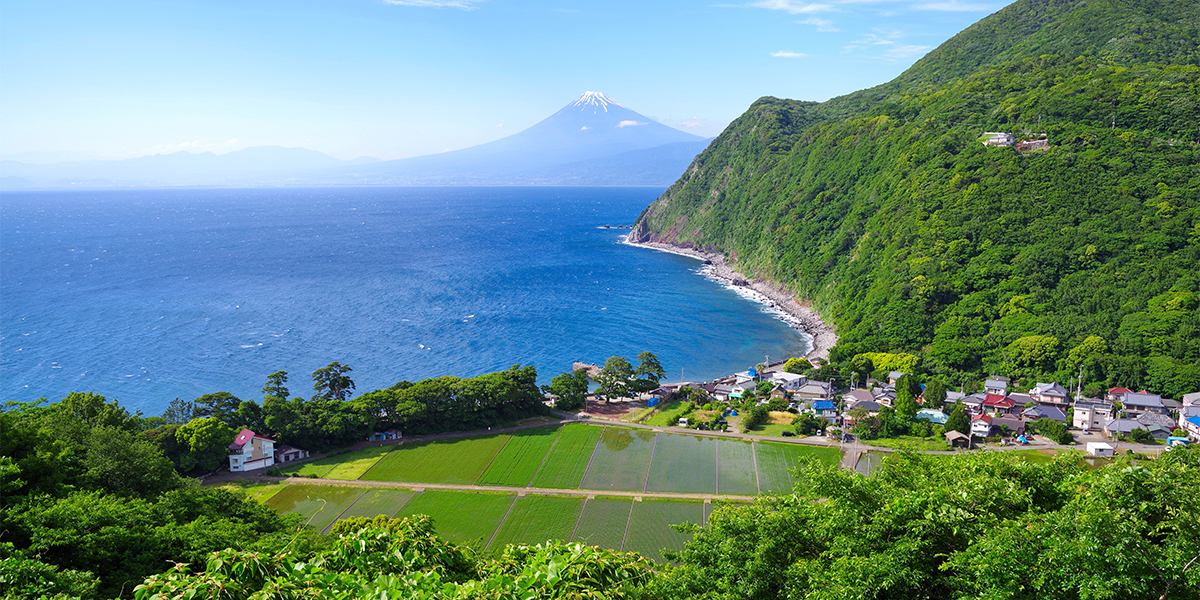 Guinness World's Best 1 Flower Clock No.1 World's Best 1 Flower Clock and Matsubara Park -1 minute walk

There is a Miyako Oba monument such as Akahiko Shimaki Bokusui Wakayama, Akahiko Shimaki, Miyako Oba, among the trees, and a group of outdoor sculptures by local sculptors.The park has the World's Best 1 Flower Clock best World's Best 1 Flower Clock with a diameter of 31 m, a long hand of 12.5 m, and a short hand of 8.8 m, which is listed in the Guinness Book of Records of Guinness Book of Records.Around 5,000 flowers around the flower clock, a beautiful melody is played by electronic chimes at noon. In addition, there is a reputation in the beauty of the sunset, and adjacent to the spa guests many park visitors to explore the after bathing hot springs mound hot water monuments and footbath Kogane-no-yu have been arranged along the Yamakawa.

1 minute walk from Kogane-no-yu footbath

Toi relaxing time on the way to Toi.

It is made on both sides of the hot spring fountain. Two units of 3.3m in length, 0.8m in width and about 0.4m in depth are provided, and it is popular that it has the same effect as bathing in hot springs. It is open all year round, so feel free to use it anytime.

In the immediate vicinity, there is Toi Specialty Products Market"Arigato", the World's Best 1 Flower Clock best World's Best 1 Flower Clock, Matsubara Park, and Toi Swimming Beach.
Cool in summer, warm in winter tourist tunnel has been reproduced Toffoli landscape of Edo Period
The mountain shrine in the mine is well received as a gold luck power spot with its golden torii with pure gold leaf!
Kanayama Museum, you can open and touch the world's largest gold ingot weighing 250 kg (market price: about 1 billion yen).Gold gold souvenirs are available for all-you-can-take gold dust collection experience (adult ¥ 720, child ¥ 610) within 30 minutes.

There are also a variety of shops, a restaurant where you can easily eat, and a coffee shop that is famous for pure gold coffee.




7-minute walk from Anraku-ji Temple (88 Izu 88 Sacred Sites)

Shaka Nyorai Soto Sect temple of the Soto Sect, whose main Shaka Nyorai is Shaka Nyorai, is the Eighty-sixth Fudasho for visiting the Izu Eighty-eight Places Sacred Site shrines that imitate the Shikoku 88 Places pilgrimage.

The precincts back of the gallery, come true wishes of the chief priest of the ill recovery prayer, gush hot springs than the tunnel in Gold Mine mining, bathing the place ill recovery was Story has become a Toi Onsen birthplace of hot water that is left Mabu-yu"there is.

"Mabu" is a tunnel, also known as "Io-izumi Fountain", "Kozan-no-yu Io-izumi Fountain", and "Gold-dusted Bath", and it is a hot spring that many people used to bathe for medicinal effects.

. Although it is not possible to take a bath now, it is said that there is a spiritual experience when a hot spring is put on the side of the bathtub and a hot spring is put on that part of the same Jizo as you pray for sick healing.
3 minutes walk from Sunset Beach

As the name suggests, Toi Swimming Beach is a Toi Swimming Beach for sunsets.
In addition to the bathing season, stop by for a fantastic sunset.
It is a sandy beach of about 700m x about 50m, curved in an arc. The beach is cleaned every morning by a beach cleaner, and a life saver trained to protect people from the dangers of the sea is deployed as a watchman.
 Because it is shallow and quiet, there is almost no swimming ban, and there is a parking lot in the immediate vicinity, and showers and changing rooms can be used free of charge.
 Swimming sheet - to the beach during the season, was filled with hot spring with a fishing boat in the bathtub Toi Onsen round" 6 boats is arranged, you can warm the body with Toi Onsen boasts a day the amount of about 6 million ℓ. Matsubara Park, which is adjacent to the beach, has a semi-circular hot spring pool "Yurabuyu~" with a diameter of 10 m, which is very popular with kids.

Arigato Toi Specialty Products Market ~ 1 minute walk

When you visit Nishi-izu and Toi, we would like you to stop by "Arigato", a Toi Specialty Products Market.
The vegetables sold are directly from local farmers, so they are very fresh and affordable!
You can get seasonal vegetables and seafood here.
Please drop in on the next day of your stay.

Next to the footbath. Behind the photo is the Toi Fujiya Hotel.
Fishing Park Toi -20 minutes on foot

A fishing pond with a net separating the corner of a small, quiet natural cove between the car ferry terminal and Cape Iwayama.You can enjoy sea fishing such as carp and carp from the fishing spot of Ukidai. There are also rental and bait sales, so you can come without preparing in advance.

You can buy the fish you caught at the market price (200 yen for bream, 2,000 yen for bream), but you can take it home as a souvenir or cook it at a cheap price at the restaurant "Minato Shokudo Ohara" and "Minato Shokudo Ohara" that Matsunoya affiliated with the Fisheries Cooperative. So you can enjoy fresh fish dishes.

Tabibito-misaki -20 minutes on foot

The Yokone no Misaki Cape fishing point Yokone no Misaki Cape Prefectural Route 17 in the middle of the Prefectural Route 17 to a small Toi from Toi, on the site of 2,400㎡, the observatory parking lot are in place, standard car 23 cars, can be a large bus of two parking I will.

From the point where the panorama of 180 degrees or more spreads out from the Koibito-misaki and it is a perfect point to face the sunset over the sea, it was named "Tourist Tabibito-misaki" to make it a new sight of the town by taking on Koibito-misaki.
A bronze statue labeled "Kazoku (family)" by Kenji Shigeoka observatory and "Cape of the Hitobito no Misaki (Cape of people)" by Naoki Award Writer Akira Sasakura, a Naoki Award Writer Akira Sasakura who is also the godfather of this cape (Nishi-izu Shizuoka Newspaper Serialized Morning Edition Novel in Nishi-izu since April 1996) There is a literary monument engraved with a passage from the Shizuoka Newspaper Serialized Morning Edition Novel.

In the central part of the observatory, there is an explanation board with a stainless steel plate fitted into the granite of the cherry blossoms, and the location and scenery of each season are explained by a picture display by sandblasting.

It is said that a heart-shaped stone is set somewhere at the foot of the observatory, and people who find it will be happy.
It is located ahead of the Fujimi Nature Trail and wooden deck from the "Koibito-misaki" bus stop along National Route 136, about 8 km south of the Toi Onsen town.The observation deck at the tip of the cape has a panorama of 180 degrees or more and offers a panoramic view of Mt Fuji and Suruga Bay.

It is said that if you call the name of a loved one while ringing the Love Call Bell bell "Love Call Bell" on the observation deck three times, love will come to fruition.

Izu a love power spot in Izu, it is crowded with lovers and tourists.

If you ring the bell here and ask the Koibito-misaki office at the entrance to the promenade to issue a Certificate of Lovers of Certificate of Lovers, you will receive a number of benefits such as a postcard gift, a birthday card mailed, and a congratulatory call when you reach the goal of a happy marriage. Will be granted.

On February 14, Heisei (time period), and the board walk to the tip of the cape, the observation deck was renewed.
One of the Izu Geo Park of Izu Geo Park,Joren Waterfall.

The mountains of Amagi are bright to the eyes, the murmur of the Kano River that is refreshing to your ears,
The magnificent Joren Waterfall on Yugashima attracts many literati
Nature. Located at the entrance of such a scenic spot, as a base for Amagi tourism
There is a corner for restaurants and souvenirs in this facility.
Establishing a more enjoyable trip for tourists
The
It's not big as an aquarium, but taking advantage of the seaside terrain,
You can meet a lot of sea animals.

The show is particularly pleasing!
◆Show stadium
A fun and cute sea lion and a fast-paced Kamiluka appear on the stage!
You must see this when you come to Mitsui! You may see different performances depending on the times! ? (About 30 minutes)
◆Dolphin Sea Show Stage
Show by bottlenose dolphins! Dolphins and trainers will show you a breathtaking underwater show! (About 15 minutes)
◆Walrus meal time
Performance by walrus, the largest animal in Misato! Please see the figure full of Atago. (About 10 minutes)

New facility "Pen para" opens at Pen para!
At "Pen para", customers can enter the living space of penguins themselves.
Feel the cute gestures, calls and smells up close.